Dryer Cleaning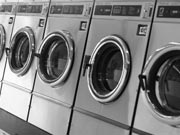 Over time, there is a continuing build-up of lint in your dryer lines. As a result the drying efficiency is reduced, requiring longer drying periods and higher electricity costs. Not only it's a waste of energy and money, but it's also a fire hazard because lint is a highly flammable substance. That's why cleaning the dryer's vent is extremely important.
Special Offer!
Dryer Vent Cleaning – Call Now and ask about our current promotional pricing
We'll start by cleaning the box underneath and behind the tumble compartment of your dryer. When you clean your lint catcher and objects fall to the bottom of your dryer, this is where they go. Next, your dryer vent, which is basically the exhaust, is cleaned from the dryer to the outside vent using our air snake or, if needed, our scorpion brush. Then we vacuum all out – dirt, debris, and lint that naturally build up with usage. This debris build up is a leading cause of house fires. It can also cause long drying times or complete failure, due to total blockage of the vent.
Call Mighty Clean Ducts Now
to Guarantee an efficient Dryer