Duct and Furnace Cleaning Gift Certificates
Mighty Clean Ducts offers the best gift anyone can give. With a Mighty Clean Duct Cleaning gift card, you can remove the burden from a friend or family member from the drudgery of a dirty ducts and air vents.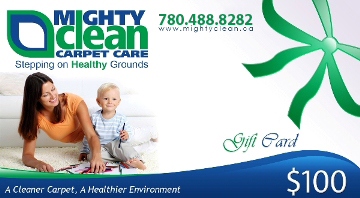 Terms and Conditions
Select the value of the gift card you are purchasing and click on Buy Now Clicking "Buy Now" takes you to PayPal, the world's safest way to buy on-line. You don't need your own PayPal account to purchase your gift certificate, simply click on "Pay with Credit Card" and fill in the blanks. Once you're satisfied everything is correct, click on the "Review and Continue" button.
PayPal will confirm your purchase. We will mail you your gift certificate the next business day.
Your gift certificate may be redeemed for any of the services Might Clean Duct offers. If you are unfamiliar with our company and the services we offer, please visit our website at www.mightycleanducts.com. When you would like to redeem (or if you have any questions) call us at 780-488-0692 and book your appointment with one of our professional customer service representatives. When booking, be sure to mention that you will be redeeming a gift certificate so this can be noted on your invoice.
Your gift certificate must be presented to our representative before any services are performed. If your gift certificate is larger in value than the work you choose to have done, a credit for the remaining amount will be placed on your file for use at a later date. If your final invoice is greater than the value of your gift certificate, you may pay the difference with cash, cheque, or most major credit cards. Gift certificate credits are non-transferable and do not expire.
Detail Masters gift certificates are a valid form of payment for any of the services offered on our price list, and may be applied to sales taxes when applicable.
Detail Masters gift certificates are nonrefundable and cannot be redeemed or exchanged for cash, cheque, or credit.